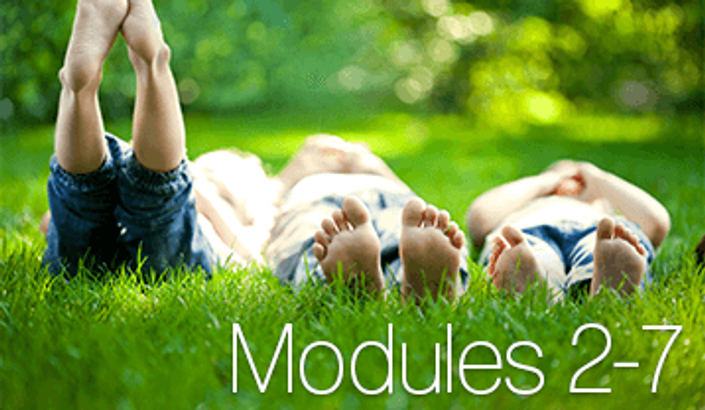 Dynamic Core for Kids Online: Modules 2-7
Dynamic Core for Kids Online


Modules 2-7

Course Tools
Course Description:
Therapists document challenges with the core and postural control in the majority of children who are experiencing motor challenges, regardless of diagnosis: ASD, CP, DCD, hypotonia. Dynamic Core for Kids is a new approach that will equip the pediatric professional with effective tools to build core stability for children with challenges. In Module One, viewers are introduced to the theory, evidence and concepts for the Dynamic Core approach, a neuromuscular and systems based strategy using breath as an accessible gateway for Core recruitment in the pediatric population.
Modules 2-7 continue the conversation. Participants will learn how the 'Dynamic Core' is linked to effective self-regulation and impacts the development of respiration, balance, postural control and functional gross and fine motor skills. Appropriate pediatric assessment and intervention strategies for improving access to the components of the Core (Diaphragm, Pelvic Floor and Transversus Abdominis) and using them together as a foundational postural control team are discussed (Modules 2-4). Finally, participants learn to integrate Dynamic Core techniques into treatment exercises and functional activities to enhance neuromuscular automaticity which can be immediately applied to a wide variety of clinical situations (direct treatment, school and home programs) in their clients ages 2 years and older (Modules 5-7).
Shelley Mannell, PT and Julie Wiebe, PT developed and presented an online 2-day professional development course to a live audience. The course recording is presented here as bundled learning Modules 1-7, with each module building on the previous presentation (wifi connectivity on the course created occasional loss of video signal).
* Please view Module One before purchasing Modules 2-7. Module One is an introduction to the theory, concepts, and evidence for the approach and provides the language and terminology used throughout the rest of the course. You can purchase Module One by clicking here.

Modules 2-7 has been approved for 7 CCUs in 30+ states by the Federation of State Boards of Physical Therapy. Please
follow this link
to determine if your state is among them.
Online Course FAQ's: Total run time is approximately 15 hours of content. Each single viewer purchase allows for unlimited access: review, re-watch, rewind as often as you need to for as long as you like. The online course is essentially identical to the live version, but has boosted content (more mini-case studies, videos, cues, self-labs, evidence, etc.) to facilitate independent learning.
Course Objectives:
By the end of this online course the participant will be able to articulate the difference between a musculoskeletal interpretation of core strength and the neuromuscular, systems approach of core strategy.
By the end of this online course the participant will be able to identify the roles of the 4 muscular components of the anticipatory core team to prepare for postural control in movement.
By the end of this online course the participant will be able to describe the order of muscular recruitment from deep to superficial for postural control in a reaching task.
By the end of this online course the participant will be able to defend 3 thoracic cage or pelvic position modifications to optimize seated postural control in a writing task.
By the end of this online course the participant will be able to select 3 therapeutic exercises to address upper chest breathing in a child with coordination deficits and anxiety.
By the end of this online course the participant will be able to teach a child's parent to use breath mechanics to facilitate core control for a functional movement such as sit-to-stand.
By the end of this online course the participant will be able to identify when it is and is not appropriate to palpate externally for pelvic floor activation in children.
Given 3 transitional movements, the participant will design a treatment which includes breath mechanics as a gateway to postural control.
By the end of this online course the participant will be able to distinguish between the 3 reactive core postural synergists.
By the end of this online course the participant will be able to develop 3 therapeutic exercises for the posterior oblique synergist to meet an ambulation safety goals in a child with Cerebral Palsy.
By the end of this online course, the participant will be able to articulate the relationship between breath mechanics and sensory system regulation
Course Audience:
This course is designed to integrate current theory and practice in pediatric treatment with a systems approach that uses diaphragm and breathing mechanics as an access point for core stability for children. This provides an attainable and accessible starting point to impact multiple systems that are intertwined with core stability: alignment, postural control, balance, sensory processing and emotional self-regulation as well as functional gross and fine motor skills.
The PT/OT/SLP will gain the theoretical basis, clinical reasoning, treatment strategies and exercise progressions for a neuromuscular systems approach to core stability to create a foundation for clinically relevant programs from assessment to evidenced based treatment planof care (POC) development. Co-professional collaboration and referral will be stressed.
The PTA/COTA/SLPA will gain insight to the theoretical basis for the assessment process, and reasoning behind the approach integrated into the therapist designed POC to aide with implementation and progression of treatment strategies and exercise programs to insure continuity of care.
Course Schedule: (appx 13 hrs)
Module Two
Optimized alignment promotes the availability of individual components of the anticipatory core (Diaphragm, Pelvic Floor, TA and Multifidus) and augments their teamwork. The position of the ribcage relative to the pelvis contributes to maximized breath mechanics, core component teamwork and a balance of flexors/extensors. An assessment paradigm for evaluation of alignment, (including ribcage position) and corrective cueing appropriate to the pediatric population is presented.
Module Three:
The diaphragm is the link between the postural control, sensory, balance, emotional self-regulation, GI and continence systems. A simple assessment model for evaluation of breath mechanics and intervention strategies are presented. (Intervention is intertwined withthe alignment model presented in Module 2).
Module Four:
The pelvic floor is a critical player on the Dynamic Core team, and the rest of the team is critical to the function of the pelvic floor. This inter-relationship provides new external strategies for the pediatric professional to integrate the pelvic floor into programs, contributing to enhanced postural control, movement support and continence. Pediatric friendly tips included regarding palpation (When and when not to? How? ) and alternative in-direct evaluation and treatment options.

Module Five:
An inside-out recruitment of the deep to superficial postural relationships is critical for the creation of a postural control strategy that is both stable and responsive to the demands of function. The deep anticipatory core system (Modules 1-4) provides a deep anchor prior to movement. Module 5 builds the relationship from the deep anticipatory system foundation out to specific reactive core postural synergists. The Posterior Oblique Synergist (POS=Lats with contralateral glute max) is presented with links to anticipatory core elements, previous alignment interventions, and exercise video demonstrations.
Module Six:
Continue your exploration of the postural synergists and inside-out recruitment from anticipatory to reactive core components in this module. Introduction of the Anterior Oblique Synergist (AOS= Obliques and contralateral Adductors) and Lateral Synergist (LS=Glute Med/Min and contralateral Adductors) brings balance to the postural flexors and extensors to support optimized alignment, efficient movement and functional activites. Links to anticipatory elements, previous alignment interventions, and exercise video demonstrations are presented.
Module Seven:
Case studies and an opportunity for group synthesis and collaborative treatment planning are presented. Participant final questions wrap-up this final module including a bonus after-party of Q and A with topics such as torticollis, combining Dynamic Core and sensory processing intervention and pelvic floor hypertonicity in the pediatric population.
I need a Certificate of Completion
After you have completed the course modules, look for a link "I need a certificate of completion" at the bottom of the course page. Click the link to be directed to your post-test at www.classmarker.com. You must score a minimum of 70% on this test in order to receive the certificate. After you have submitted the test, you will be provided with the option to download your certificate of completion. In addition, click the link to be directed to a course self-refection to optimize the application of your learning to clinical practice. Please follow the provided link to complete the course evaluation. We value your feedback!
Is the course eligible for CEU's?
Since Procert is no longer, this course does not have CEU credit associated with it at this time. Unfortunately it is cost and time prohibitive to submit to states individually for CEU approval for each course, but we are hoping for another company or avenue to come about with the PT Compact in the future to allow us to get course pre-approval again for continuing education credits.
Individuals can apply for CEU credit retroactively through their state board after taking the course (if their state allows it). Contact your board for details about the process. If you do go this route we would greatly appreciate it if you circled back with us to let us know about the approval as it would be helpful to share with others
Computer Compatibility Needs
This course is hosted on the teachable.com online streaming service designed to handle any system setup. So if you have a computer and an internet connection you should have access without issue. If you have issues with a slower bandwidth connection then you can change the video settings to a lower quality to help improve any loading issues.
Get the newsletter
Don't wanna miss a blog or event update, new product announcement, or special subscriber discounts? Join the newsletter here:
Your Instructor
Shelley has more than 25 years experience treating babies, children and adolescents with physical challenges and gross motor delays. Shelley has been a registered Physiotherapist with the College of Physiotherapy of Ontario since graduating from McMaster University. She is a member of the Neuro-Developmental Treatment Association (C/NDT) and is a regular contributor to various newsletters and online forums.
Shelley began her career in pediatrics at the Niagara Children's Centre. During her time at the centre she served children in the schools and as outpatients, was coordinator of Orthotic Clinic and served as a founding member of the Early Intervention Team. In 1997 she created HeartSpace Physical Therapy for Children in order to balance her career as a Physical Therapist with her role as a mother.
Shelley has extensive post-graduate study. She is certified in pediatric Neuro-Developmental Treatment (C/NDT) and has completed all her pediatric NDT advanced courses. In addition she has extensive training in Myofascial Release, Craniosacral Therapy, developmental biomechanics and sensory processing intervention as well as attachment theory and treatment. Shelley is also a certified children's yoga teacher and meditation facilitator and has developed the HeartSpace Yoga and Meditation programme which offers yoga and meditation for children with sensory and motor challenges. Most recently Shelley has co-created the Dynamic Core for Kids approach for the treatment of core stability in children with Julie Wiebe PT.
Join Shelley Mannell on social media: Facebook, Twitter, YouTube

---
Julie Wiebe, DPT (Candidate), MPT, PT
Julie Wiebe, PT has over twenty years of clinical experience in both Sports Medicine and Women's Health. Following her passion to revolutionize the way women recover from pregnancy and return to high levels of fitness, she has pioneered an integrative approach to promote women's health in and through fitness.
Her Diaphragm/Pelvic Floor Piston Science concepts have been successfully incorporated by rehab practitioners and fitness professionals into a variety of populations. A published author, Julie is a sought after speaker to provide continuing education and lectures internationally at clinics, academic institutions, conferences and professional organizations.
Julie maintains a clinical practice in Los Angeles and shares her approach for post pregnancy and pelvic health recovery and return to fitness with women worldwide through online courses.
When not trying to change the world one pelvic floor at a time, Julie is happy to focus on her first passions: being mom to the Z's (Zoe and Zack), and wife to David.
Follow it all and join the conversation with Julie on instagram, twitter and Facebook. Get your questions answered by Julie and find more content on You Tube.
Contact Julie at [email protected]
Course Curriculum
Documents
Available in days
days after you enroll
Module 2
Available in days
days after you enroll
Module 3
Available in days
days after you enroll
Frequently Asked Questions
When does the course start and finish?
The course starts now and never ends! It is a completely self-paced online course - you decide when you start and when you finish.
How long do I have access to the course?
How does lifetime access sound? After enrolling, you have unlimited access to this course for as long as you like - across any and all devices you own.
Can I share a course with a friend or colleague? How does the group discount work?
Each course purchase is for a single viewer only, and may not be shared. If you are interested in group/staff viewing, please contact Shelley Mannell at
[email protected]
to arrange a group discount code specifically for your group. The larger the group, the larger the discount. Each individual must purchase separately with the discount code, and agree to the terms and conditions (legal). This provides each participant with their own copy to review at their pace, in addition to the opportunity to interact with colleagues as you all work collectively through the material. Real time group online mentoring for Q and A is available with Shelley to support your distance learning as you work through each module or after completing the course. Contact Shelley at
[email protected]
to set up a group discount and group mentoring.